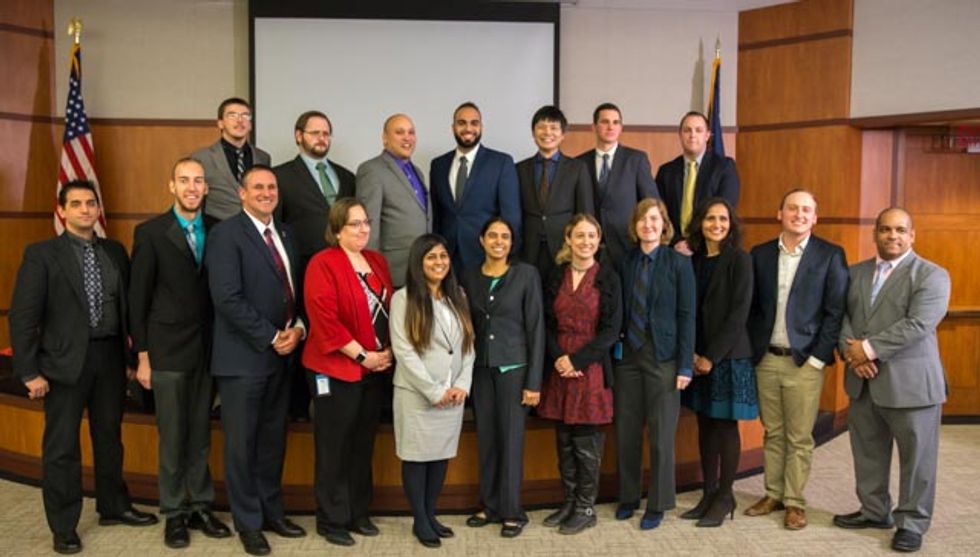 Innovative Program Creates New High-Tech Career Possibilities at Penske
Penske Truck Leasing held a graduation ceremony at its corporate headquarters in Reading, Pennsylvania, Oct. 31, honoring and welcoming 18 new people to its Information Technology (IT) team. Yet, this was no ordinary group.
---
What's unique is less than a year ago, most were total novices to computer programming. Only a few had received formal IT education or had relatable work experience.
Earlier this year, while seeking a change in their career paths and hoping to immerse themselves into the IT field, these individuals learned about a new training opportunity offered by UST Global.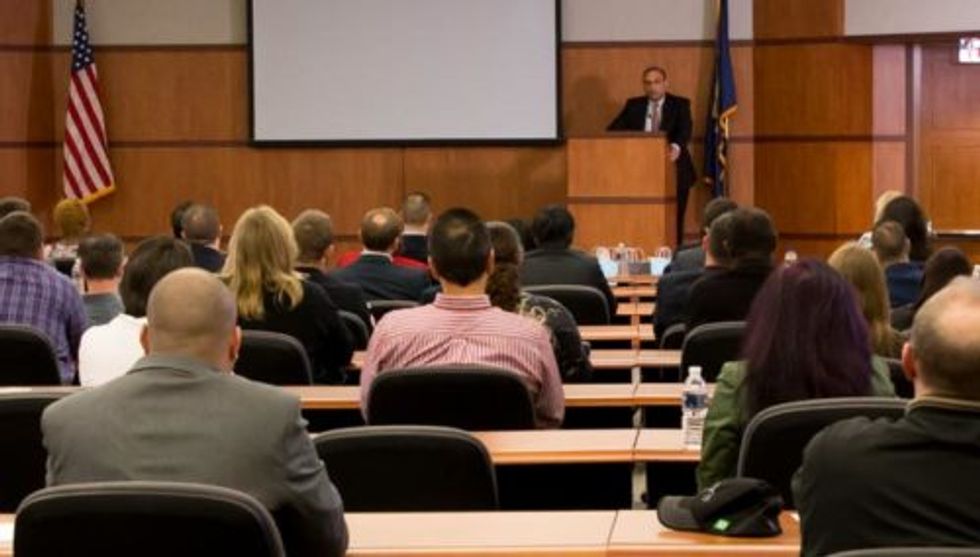 Rohit Talwar, Penske's vice president of MIS, giving an inspirational speech to the graduates.
UST Global, an IT services and solutions provider, has a special program called Step IT Up America. This program is a science, technology, engineering, math (STEM), and IT training opportunity rolled into one.
The program focuses on providing men, women, minorities and veterans with an accelerated IT education and technical training to mold them into IT consultants for prospective employers. Candidates are given an opportunity to learn computer programming in a short period of time, in hopes of becoming an IT professional and landing a new career in the technology field.
"The Step IT Up program's mission is to transform lives through technology," said B.G. Moore, chief of staff at UST Global. "By giving those who do not have prior computer science academic experience accelerated training in the skills they need to succeed, we have been able to touch over 750 people's lives, placing them in careers at Fortune 500 companies."
This past spring, April Ottey, Penske's director of corporate systems; Paul Maglionico, Penske's vice president of systems development and e-commerce; and Rohit Talwar, Penske's vice president of MIS, needed to recruit people, who were passionate about IT and excited about a possible career with the global transportation industry leader.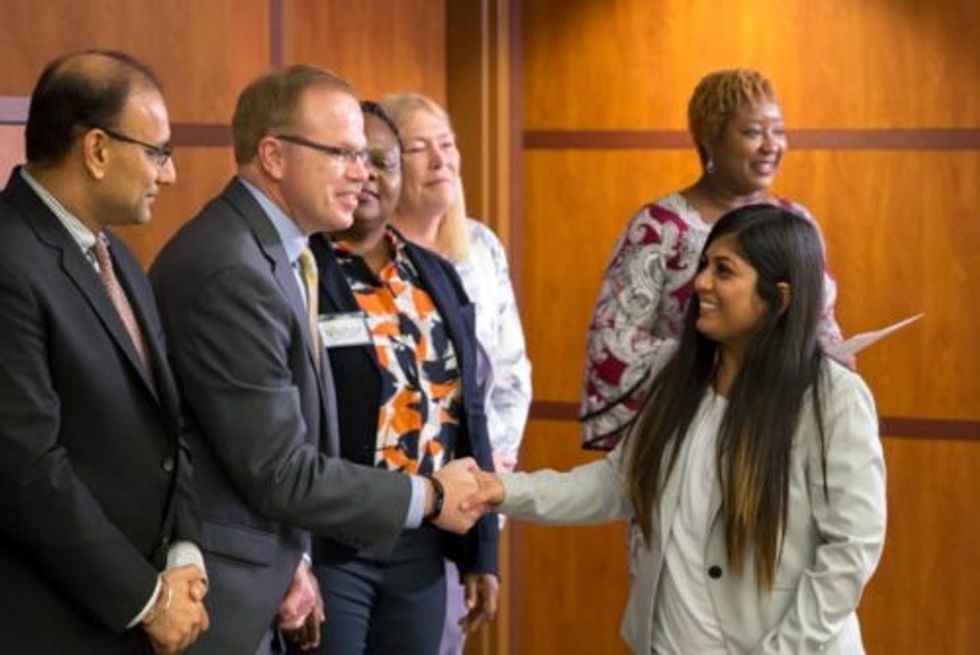 Mike Krut, Penske's senior vice president of IT, congratulating each graduate as they accept their certificate.
Moore reached out to Ottey and Mike Krut, senior vice president of IT at Penske, and informed them about his company's alternative to traditional talent recruitment. After learning more about the program, Penske's IT team became interested in what the program had to offer.
"This program was a real win-win. We saw this as an innovative and alternative approach to accessing IT talent while also providing excellent career opportunities for individuals looking to change their career paths," said Krut.
After passing UST Global's 2.5-hour assessment that included reading, math and analytics skills analysis – candidates for the program participated in an interview. The strongest candidates were selected to go through UST's rigorous and accelerated daily training – assisted by Penske's IT team – that spanned several months. Students were exposed to learning the basics of computer programming and eventually the more sophisticated complexities. Graduates spent months training on computer programming languages such as Java and RPG.
Fast forward, 18 students are now embarking on the next step of their journeys and are ready to apply everything they've learned.
"These individuals went through several months of intense training to get to this point," Ottey said. "I give them a lot of credit. They learned a lot of new material in a short time, and I am inspired by their dedication and perseverance."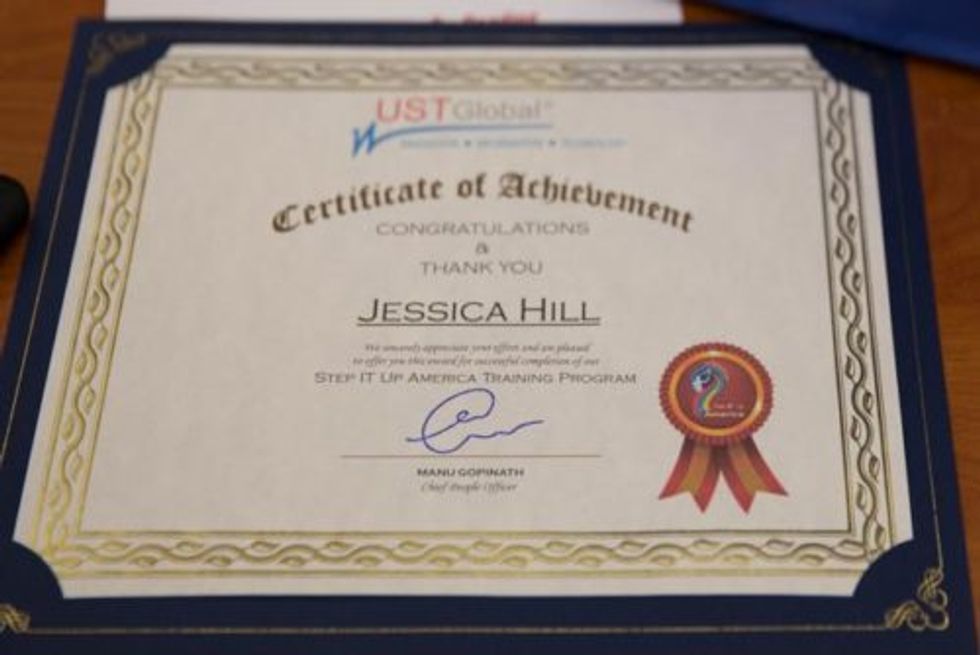 Each graduate received their own Certificate of Achievement at the end of the ceremony.
The graduation ceremony included Penske's IT department and leadership and featured several speeches and a small reception. The event concluded with handing out certificates and graduate acknowledgements.
Members of Penske's IT team will now work closely with UST's graduates over the next 12 months to get them fully acclimated to the duties and responsibilities of their new potential careers. After a one-year trial period, Penske may extend full-time job offers to the graduates.
"Thanks to Mike Krut's vision, these individuals were given the training and now the opportunity to restart their careers," said Moore.
Visit GoPenske.com/careers to learn more about great careers at Penske!
By Chris Abruzzo